Profile
As a Green Bay Packer wide receiver Greg Jennings conquered football's greatest stage, "Super Bowl XLV," with the same sense of purpose and humility he brings to all life's challenges, both on and off the field.

A native of Kalamazoo, Michigan, Mr. Jennings and his three siblings grew up in the church, where their father, Greg Sr., is a pastor at Progressive Deliverance Ministries, and their mother, Gwen, works alongside as a missionary. Because of the values instilled by his parents, Mr. Jennings has made philanthropy a top priority. In 2008, Mr. Jennings and his wife, Nicole, founded the Greg Jennings Foundation, a private family foundation that partners with and assist Michigan and Wisconsin organizations in educating youth by providing the necessary resources in order to them to reach their academic potential.

Every year since its inception, the foundation has hosted the Greg Jennings Celebrity Golf Classic which has previously benefited the Milwaukee and Kalamazoo Habitat for Humanity. Thus far, this event has funded the building of three homes in inner city Milwaukee and one in Kalamazoo. In 2012, one additional Green Bay Habitat Home was completed with the help of a sponsorship from The Greg Jennings Foundation. Greg Jennings will continue to host his Annual Celebrity Golf Classic in Kalamazoo to benefit The Greg Jennings Foundation after school program initiatives.

The Greg Jennings Foundation is well known for brightening the holidays with a variety of programs each year. In 2009 and 2010, The Greg Jennings Foundation hosted events such as an elegant Thanksgiving dinner, Thanksgiving turkey giveaways, and Christmas Adopt a Family events. In addition, annual Football and Cheer Camps for up to 500 boys and girls give local children the chance to hear Mr. Jennings speak, and to be inspired by speakers from ordinary walks of life: volunteers, parents and teachers. As The Greg Jennings Foundation continues to thrive, they are looking to fulfill their mission towards youth education and will continue host events that involve educational advancement.

Mr. Jennings was an all-conference star in three sports (football, basketball, and track) at Kalamazoo Central High School. He went on to enjoy a standout career at Western Michigan University where he became just the 11th player in NCAA Division I history to record three career 1,000-yard receiving seasons (2003-05), and enjoyed a record-breaking senior year, leading the nation with an average of 8.91 receptions per game, while also ranking second in the country in yards receiving per game (114.45).

Drafted in 2006 by the Packers, Mr. Jennings quickly distinguished himself, being named to the All-Rookie Team and catching quarterback Brett Favre's 400th, 420th and 421st touchdown passes as the NFL legend chased, matched, and surpassed Dan Marino's all-time NFL record. In 2010, Jennings was named a Pro Bowl wide receiver selection, and became a Super Bowl XLV champion, scoring two touchdowns in the Packers 31-25 victory over the Pittsburgh Steelers.

Off the field, Mr. Jennings enjoys spending time with his wife, Nicole Jennings of Kalamazoo, and three daughters(Amya, Alea, and Ayva) and one son(Aice). He also takes on many hobbies and interests that include acting on numerous TV shows, playing the bass guitar, playing drums, and spending time with family in Kalamazoo.

Early Years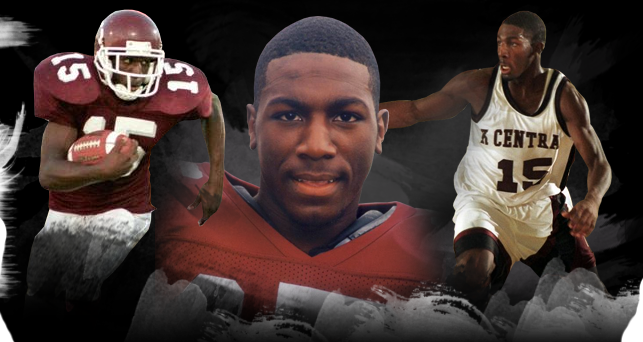 Born in Kalamazoo, Mich.
Given name: Gregory Jennings Jr.
Father, Greg, is a Pastor at Progressive Deliverance Ministries in Kalamazoo, Mich., while his mother, Gwen, is a church missionary
Younger brother, Cortney, played basketball at Wayne State University
Is a first cousin of former Denver Broncos LB Ian Gold; Jennings' mother and Gold's mother are sisters
Married his wife, the former Nicole Lindsey, in June 2005; the two had known each other since the fifth grade, but they did not begin to date regularly until after high school
The couple has three daughters and one son (Amya, Alea, Ayva and Aice)
High School:
Was all-conference in three sports: football, basketball and track at Kalamazoo (Mich.) Central High School
Nicknamed "Superman" in high school because of his personality on the field
Played WR, RB, outside LB and DB as a three-time letterman in football
Also established a new school record for receiving yards (1,259) and tied his own mark for touchdown receptions (14, also done in 2003)
Was a second-team all-state selection his junior year, when he had 28 catches for 648 yards and eight TDs
Listed 11th on the "Fab 50″ rankings of the Detroit Free Press as a senior in 2000
That year, along with Jerome Harrison (Cleveland Browns), helped Kalamazoo Central to a 7-3 record, its best since 1975, and its first Big Eight Conference title
Also earned three letters in basketball, helping school to a 24-4 record and a berth in the Class A(highest class) state finals as a senior and earning second-team all-state honors
Scored 32 points in the state quarterfinals against Lansing Sexton and scored a school-record 50 points in a 96-92 loss to Benton Harbor
In track, won the state long jump title as a senior (21 feet, 9 inches), and ran a leg on the state championship 4×100-meter relay team as a junior
Attended the same high school as New York Yankees superstar Derek Jeter
Joins Jeter and Seattle Seahawks RB T.J. Duckett as three of the top athletes ever to come out of Kalamazoo, Mich.
Community involvement:
Started the Greg Jennings Foundation in 2008, and continually holds the annual Greg Jennings Celebrity Golf Classic to benefit charity
Framed and built his first Habitat for Humanity house in June 2008 in Milwaukee with proceeds from first tournament
The foundation also hosted a charity bowl-a-thon in his hometown
Annually holds the Greg Jennings Football & Cheer Camp
In April 2009, was honored with the Professional Achievement Award at 12th annual Lee Remmel Sports Awards Banquet
Hobbies/Interests:
Upon retirement from football, would like to be heavily involved in the church ministry
Plays the bass and owns five guitars
Hobbies include playing basketball, bowling and golf as well as spending time with his wife and children
Also enjoys attending church services
Taped his own segments for "In the Locker Room with Greg Jennings" for FOX 6 Milwaukee
College Bio
Finished his career at Western Michigan as the school's all-time leading receiver with 238 career catches, surpassing the 235 of the prior record-holder, Neal (1997-2000)
Was second to Neal (3,599) in career receiving yards with 3,539
Also ranked as the WMU career leader in touchdown receptions with 39, having passed Neal (27) early in his senior campaign, and all-purpose yards with 5,093
Became just the 11th player in NCAA Division I history to record three career 1,000-yard receiving seasons (2003-05)
His 238 career receptions tied him with Ball State's Dante Ridgeway for third on the all-time list of the Mid-American Conference, behind only the 306 of Josh Davis and 272 of Darius Watts, both of Marshall
His 3,539 yards receiving ranked fourth in conference history and his 39 TD receptions stood second in the MAC record books, exceeded only by the 47 of Watts
Recorded 18 career 100-yard receiving games
Also returned 41 kickoffs for 921 yards (22.5 avg.) and 49 punts for 541 yards (11.0) with two TDs
Enjoyed a record-breaking senior year, leading the nation with an average of 8.91 receptions per game, while also ranking second in the country in yards receiving per game (114.45), trailing only Oregon State's Mike Hass (139.27)
Shattered the WMU single-season mark for receptions with 98 catches – 21 better than the prior record, 77 by Kendrick Mosley in 2003
Also established a new school record for receiving yards (1,259) and tied his own mark for touchdown receptions (14, also done in 2003)
Additionally, rushed 10 times for 50 yards, returned 20 punts for 172 yards (8.6 avg.), ran back two kickoffs for 20 yards and threw a touchdown pass
Was a third-team All-America pick of the Associated Press, while also garnering second-team recognition from Sports Illustrated
Received the Mid-American Conference's 'Vern Smith Leadership Award,' given annually to the league's most valuable player, and was named MAC 'Offensive Player of the Year'
Became the first conference player to receive both honors in the same season since Moss in '97
Led the MAC in both receptions (98) and receiving yards (1,259), while tying two others for the league lead in TD catches (14)
Posted a career-best seven 100-yard receiving games, and for the second consecutive year had a TD reception in six straight contests
Started all 11 games in 2005, having at least six catches in all but one contest (four vs. Kent State on Oct. 29)
Opened the year explosively, making a career-best 16 receptions (for 156 yards) at Virginia (Sept. 3) to tie the WMU single-game record (Jamie Hence, 1987 vs. Ohio)
Became the WMU career receiving touchdowns leader when one of his 11 catches, a 17-yard TD pass from Ryan Cubit on fourth-and-1, gave the Broncos a 16-13 lead late in the second quarter of their eventual 19-16 victory at Temple (Sept. 24)
Also made 11 receptions in 60-57, five-overtime loss to Ball State (Oct. 8 – the longest game in MAC history – but this time for a career-high 244 yards and a school-record four touchdowns (breaking the prior mark of three, done on five other occasions including once by himself in 2003)
Had a 40-yard TD grab for the initial WMU points in epic game with the Cardinals, then caught scoring passes of 50 and 27 yards in the third quarter, before pulling in a 25-yard touchdown in the third overtime
Followed that game up with eight receptions for 162 yards and two touchdowns in 45-14 victory at Bowling Green (Oct. 22), including an 89-yard scoring strike from Tim Hiller for the second-longest pass play in school history (94 yards by himself in 2003)
Had nine catches for 171 yards (eight for 164 in the first half) as the Broncos scored 31 unanswered points to overcome an early 14-0 deficit in 31-24 triumph over Central Michigan (Nov. 12)
Made TD receptions on the first play of two different drives, including a nifty, 76-yard catch-and-run for the first WMU points of the afternoon
Also broke Neal's single-season school mark for receiving yardage in victory over CMU
Caught two touchdown passes and threw for another in 31-21 win against Buffalo (Oct. 1)
Had a 32-yard punt return into Buffalo territory to set up his first TD pass as a collegian, 22 yards to Joe Chapple early in the second quarter
Set a new WMU career record for receptions when he caught a 6-yard pass from Robbie Haas on the final play of the third quarter in season finale at Northern Illinois (Nov. 23)
In junior season of 2004, led the Broncos in receiving for the first time, with 74 catches, while becoming only the second player in school history to post back-to-back 1,000-yard receiving seasons (1,092), joining Neal (1998-99)
Earned first-team All-MAC accolades
Also was chosen as 'Most Valuable Player and 'Offensive MVP' at Western Michigan
Average of 99.3 yards per game receiving ranked eighth in the nation
Also was a punt returner of note, averaging 14.8 yards per runback (21-311) and scoring twice, including a 93-yarder vs. Northern Illinois (Oct. 23) – the second-longest PR TD in WMU history
Had a touchdown catch in six straight games and recorded five contests of eight-or-more receptions
Posted five 100-yard receiving efforts while starting all 11 games
Made a season-high 11 catches (for 142 yards and a pair of touchdowns) vs. Eastern Michigan (Oct. 16)
Turned in a season-best 167 yards receiving (and TD, on eight grabs) in game at Central Michigan (Oct. 30)
His score in CMU contest was a spectacular, one-handed catch where he then reversed field en route to a 79-yard touchdown
Also surpassed the century mark Oct. 9 against Toledo (4 receptions for 129 yards and 2 TDs), in NIU contest (8-127-1) and Nov. 13 vs. Miami of Ohio (8-155-2)
Made 8 receptions for 64 yards in head-to-head competition with Williams, Virginia Tech's All-America CB (Sept. 11)
Had a 53-yard punt return touchdown in season opener with Tennessee-Martin (Sept. 2)
During sophomore year, posted his first career 1,000-yard receiving season, making 56 catches for 1,050 yards and 14 touchdowns
Averaged a career-best 18.8 yards per reception
Saw action in all 12 of the Broncos' games, making four starts
Was a second-team All-MAC selection, in addition to being named as WMU's 'Offensive MVP'
Set single-season school record with his 14 TD receptions while becoming just the second player in Western Michigan annals to record a 1,000-yard receiving season (Neal)
Amassed (at the time) the second-most all-purpose yards (1,734) in one season in school history, including 669 on 31 kickoff returns
Enjoyed six 100-yard receiving days
Had a season-high 204 yards and three TDs (tying a school record he subsequently broke in 2005) among eight catches vs. Central Michigan (Nov. 15)
Made a season-best 10 receptions (for 107 yards and two touchdowns) at Michigan State to open the year (Aug. 30)
Also turned in 100-yard efforts Sept. 6 vs. William & Mary (3 receptions for 126 yards and 2 TDs), Sept. 27 at Ohio University (2-103-1), Oct. 4 at Eastern Michigan (6-117-2) and Nov. 1 at Connecticut (7-164-1)
Hooked up with QB Jon Drach to produce 94-yard touchdown against CMU that became the longest pass play in school history
Earlier had 70- and 61-yard scores in UConn and William & Mary contests, respectively
Saw action in eight games as a reserve wide receiver and return man during his redshirt freshman season
Playing in eight games (three starts), he made 10 receptions for 138 yards
Finished second on the team in both punt and kickoff returns, returning eight punts for 58 yards (7.3 avg.) and eight kickoffs for 232 yards (29.0 avg.)
Also had one rush for 15 yards
Suffered an ankle injury in the fourth game of the year, vs. No. 5 Virginia Tech (Sept. 28), that caused him to miss the ensuing four contests before returning to action at Ball State (Nov. 2)
Was first in the MAC – and seventh in the nation – in kickoff return average (33.7) at the time of his injury
Enjoyed a career-long 76-yard kickoff runback among 149 all-purpose yards at Purdue (Sept. 14)
Had posted 141 all-purpose yards a week earlier at Michigan (Sept. 7), including 91 returning kickoffs
Also posted a season-best three receptions (for 50 yards) against the Wolverines
Sat out redshirt season
Earned 'Offensive Stallion of the Year' award for his outstanding play as a member of the scout team
NFL Highlights

Fourth-year wideout has developed into one of the most explosive playmakers in the league
Stands at or near the top of the team's record book for wide receivers in their first three seasons with the team
His 24 receiving touchdowns are the most by a player over that span, and with 178 receptions, ranks second to only Sterling Sharpe's 212
With 2,844 receiving yards in his first three seasons, trails only Sharpe (3,319) and James Lofton (3,012)
Has a 31.3-yard average on his 24 career touchdown receptions
Ranks fourth in the NFL with 21 TD catches over the past two seasons, and is tied for fourth with a 16.6-yard receiving average over that span
Has caught a pass in every game he has played with the Packers, carrying a streak of 43 consecutive games with a reception into the 2009 season
Has started 39 of 43 games played in his career
Signed a long-term contract extension with the Packers through 2012 on June 24, 2009
Posted career highs in catches (80) and receiving yards (1,292) on his way to being named first alternate for the Pro Bowl in 2008
Became only the sixth wide receiver in team history to catch 80 passes in a season
Big-play ability evidenced by his leading the NFL with eight receptions of 40-plus yards in '08
Was also tied for second in the league with 21 catches of 20-plus yards on the season
Hauled in 12 TD passes in just 13 games in 2007, with six of those scores coming from 40-plus yards
Made one of the most memorable plays of the 2007 season, catching an 82-yard TD pass from Brett Favre on the first snap of overtime to win a Monday night game in Denver
In addition, posted the go-ahead TD on big plays late in the fourth quarter of games vs. San Diego and at Kansas City, and caught a TD pass in five straight games (Weeks 11-15), the club's longest such streak this decade
Also caught two TD passes in his first playoff game, vs. Seattle in the NFC Divisional round
Over his first two seasons, caught Favre's 400th, 420th and 421st TD passes as the Hall of Fame-bound QB chased, matched, and surpassed Dan Marino's all-time NFL record
Also on the receiving end of Aaron Rodgers' first career TD pass, which came in 2007 at Dallas
Nearly eclipsed 1,000 yards in '07, gaining 920 on 53 catches, and likely would have if not for missing three games
All his big plays in 2007 helped produce a 17.4-yard average per catch, fourth-best in the NFL, and his 12 TDs were the most by a Packers WR since Javon Walker also had 12 in 2004
A second-round draft pick in 2006 who made a strong first impression as a rookie, earning a starting job
Put up impressive first-year numbers (45 catches, 632 yards, 3 TDs) to earn recognition on the Pro Football Weekly/Pro Football Writers Association All-Rookie team despite being slowed from the sixth game through the end of the year by an ankle injury
Displayed his veteran awareness with two particularly memorable plays as a rookie, one when he lateraled to Donald Driver after a reception to pick up 30 extra yards at Minnesota (Nov. 12), and another when he signaled Favre that Ruvell Martin was wide open down the far sideline, leading to a TD pass at San Francisco (Dec. 10)
Was the second of two second-round draft choices by Green Bay in the 2006 draft (52nd overall), the Packers using a pick obtained in a draft-day trade down of 16 spots with the Patriots
Was the fourth wide receiver selected, behind Santonio Holmes (25th by Pittsburgh), Chad Jackson (36th by New England) and Sinorice Moss (44th by the N.Y. Giants)
Finished his Western Michigan career ranked first in school history in receptions (238), touchdown catches (39) and all-purpose yards (5,093) while finishing second in career receiving yards (3,539), just 60 behind record-holder Steve Neal
Became just the 11th player in NCAA Division I history to record three career 1,000-yard receiving seasons (2003-05)
Burst onto the national scene with his record-breaking senior year, when he set school records for receptions (98), receiving yards (1,259) and receiving touchdowns (14-tie), along with leading the country in most receptions per game (8.91
Also became the first MAC player to garner league MVP and offensive player of the year recognition in the same year since Randy Moss of Marshall in 1997
Received All-America recognition as well
Was the first Western Michigan athlete to be chosen in the NFL Draft since DE Jason Babin went late in the first round to Houston in 2004; he joins Babin, DL Bob Rowe (1967 second round to Cardinals) and LB John Offerdahl (1986 second round to Dolphins) as the school's only players to go in the first two rounds
Also was the first wide receiver drafted in the 100 seasons (1906-2005) of the WMU program

In earning his first Pro Bowl bid, started all 16 games and posted his third straight 1,000-yard season with 76 catches for 1,265 yards and 12 TDs
Tied for first in the NFC and second in the NFL in TD catches, ranked fourth in the league in yardage, and tallied a career-high five 100-yard games for a third straight year
Went on a torrid stretch over the last 11 games following Finley's season-ending knee injury, hauling in 62 passes for 1,082 yards (17.5 avg.) and nine TDs; his average of 98.4 yards per game over that span led the league
Ranked 18th in the NFL in catches for the year, but his 16.6-yard average per catch ranked second in the league among players with 65 or more grabs
Added 21 receptions for 303 yards (14.4 avg.) and two TDs in the postseason, the yardage total leading the league and ranking No. 2 in franchise history for a single postseason behind Freeman's 308 yards in 1997
Joined teammate Nelson for the team's single-playoff mark with 21 catches as they became the first WR teammate tandem in league history to each register 20 receptions in the same postseason
At Philadelphia (Sept. 12): Surpassed 4,000 career receiving yards with five catches for 82 yards (16.4 avg.), including a 32-yard TD and a spectacular, leaping one-handed grab for a 16-yard gain on a third down in the second quarter, leading to a Driver TD five plays later
Vs. Miami (Oct. 17): Posted six catches for 133 yards (22.2 avg.), including a career-long 86-yard TD in the first quarter (also a career-long for Rodgers), topping the 83-yard TD at Pittsburgh in '09 (Dec. 20). Long TD was his fourth career of 80-plus yards, setting a franchise record. Also caught a 20-yard pass on fourth-and-7 on a late fourth-quarter drive that led to the tying TD with 13 seconds left
At Minnesota (Nov. 21): Earned NFC Offensive Player of the Week for his first career three-TD game, catching seven passes for 152 yards (21.7 avg.) and joining Freeman and Javon Walker as the only players in club history to have at least seven catches, 150 receiving yards and three TDs in the same game. Outing marked his fifth straight game with at least six catches, the longest streak of his career and longest by a Green Bay player since Sharpe (12 games, 1993). TD receptions were 11, 46 and 22 yards, the first Packers player with three TD catches in a game since Walker (at Indianapolis, Sept. 26, 2004)
Vs. San Francisco (Dec. 5): Notched a third straight 100-yard game for the second time in his career (Weeks 2-4, 2008) with six catches for 122 yards (20.3 avg.) and two TDs, including two big plays – a 57-yard TD and a 48-yard catch-and-run to set up his own 1-yard TD
Vs. N.Y. Giants (Dec. 26): Caught seven passes for 142 yards (20.3 avg.) for his fifth 100-yard game of the season and 19th career. Also went over 5,000 career receiving yards in his 74th game, the fourth fastest in team history to do so behind Howton (67), Sharpe (72) and Lofton (73), and teamed with Nelson (124 yards) to give the Packers their first pair of 100-yard receivers in the same game since Jennings and Driver vs. Detroit (Dec. 28, 2008). Followed a 33-yard grab by Driver with a 36-yard fingertip grab, fully outstretched, down to the 1-yard line to set up a TE Donald Lee TD for a 31-17 lead
Vs. Chicago (Jan. 2): Had a team-high 97 yards on four catches (24.3 avg.), highlighted by a 46-yard reception early in the fourth quarter to Chicago's 1-yard line; Rodgers found TE Donald Lee on the next play for a 1-yard TD pass for what proved to be the game-winning points in the playoff berth-clinching win
At Atlanta (NFC Divisional, Jan. 15): Caught eight passes for 101 yards (12.7 avg.), rebounding from a fumble following his first reception of the game to catch five more passes for 58 yards in the first half, all on TD drives
At Chicago (NFC Championship, Jan. 23): Had eight catches for 130 yards, with five receptions of at least 20 yards to break his own team postseason record, including grabs of 22 and 26 yards on the first two plays from scrimmage to begin an 84-yard TD drive
Vs. Pittsburgh (Super Bowl XLV, Feb. 6): Became the third Packers player and 15th in league history to record multiple TD catches in a Super Bowl by hauling in scoring passes of 21 and 8 yards on his way to four receptions for 64 yards (16.0 avg.) in all. First TD came over the middle on a bullet throw from Rodgers, who threaded the pass between safeties Ryan Clark and Troy Polamalu, with Jennings taking a big hit from Polamalu at the goal line but hanging on. Second TD came on a short corner fade, a play Jennings had been saying on the sideline would be open. Perhaps his biggest catch came in the fourth quarter, on third-and-10 from the Green Bay 25 with the Packers leading just 28-25; barely got a step on CB Ike Taylor as he snatched a laser from Rodgers over the middle for 31 yards, helping set up a FG for the game's final points.

Played in all 16 games for the second straight year with 13 starts led the team with 1,113 receiving yards on 68 catches (16.4 avg.)
Led the team with 1,113 receiving yards on 68 catches (16.4 avg.)
Tied for fourth on the team with four TD catches and tied career best with five 100-yard game
Added a fifth TD, and sixth 100-yard game, with season-best 130 yards in playoffs
Ranked tied for seventh in the NFL with six receptions of 40-plus yards and was sixth in the NFC in receiving yards
Named to USA Today's All-Joe Team for making significant contributions with little fanfare
Vs. Chicago (Sept. 13): Started and led team with 106 yards on six receptions (17.7 avg.), beating CB Nathan Vasher on a post route for a 50-yard score with just over a minute remaining
At St. Louis (Sept. 27): Posted two receptions for 103 yards (51.5 avg.) – a 50-yarder deep down the right sideline on a third-down play in the second quarter to set up Driver's 21-yard TD on the next play (putting Jennings over 3,000 career yards), and a 53-yarder over CB Ronald Bartell on the first play of the fourth quarter, leading to Rodgers' TD run four plays later
Vs. San Francisco (Nov. 22): Started and led the team with a season-high 126 yards on five catches (25.2 avg.), the biggest a 64-yard TD in the second quarter, when he caught a pass over the middle about 10 yards downfield and made a nifty move to elude S Dashon Goldson and CB Tarell Brown at the San Francisco 45. Also caught a 37-yard pass down the left sideline to set up a Mason Crosby FG and went over the 100-yard mark in first half with four receptions for 121 yards, a career high for an opening half
At Pittsburgh (Dec. 20): Led the team with 118 receiving yards on five receptions (23.6 avg.), including the (then) longest catch of his career, an 83-yard TD on third down in the first quarter when he caught pass over the middle near midfield and shook off tackle attempt by S Tyrone Carter. That marked his third career TD catch of 80-plus yards, tying him for first in franchise history with Driver, Howton and Carroll Dale
Vs. Seattle (Dec. 27): Started and led the team with four catches for 111 yards (27.8 avg.). The 27.8-yard average matched his career best (min. four receptions), tying his six-catch, 167-yard performance at Detroit on Sept. 14, 2008. Beat CB Kelly Jennings down left sideline on deep pass that picked up 40 yards late in the first quarter to put him over 1,000 yards for the season. On the next play, caught hitch from Rodgers, made CBs Marcus Trufant and Josh Wilson miss, and took it 24 yards down to Seattle's 3; RB Ryan Grant scored on the next play. Also caught pass over the middle on third down that he took 38 yards to the Seattle 10 with under two minutes remaining in the first half to help set up a 29-yard Crosby FG
At Arizona (NFC Wild Card, Jan. 10): Started and led the team with eight receptions for 130 yards (16.3 avg.) and a TD. His four catches of 20-plus yards set a (then) team postseason record. Posted 35-yard catch-and-run in the third quarter, stumbling at the Arizona 20 before getting back up and running down to the Cardinals' 3. Three plays later, made spectacular one-handed grab with his left hand on back-shoulder throw from Rodgers for 6-yard TD. Made leaping 22-yard grab over CB Bryant McFadden in the fourth quarter at Arizona's 25, showing great body control to get both feet in bounds; Packers scored four plays later on TE Spencer Havner TD catch to even the score at 45.

Played in all 16 games for the first time in his career, including a career-high 15 starts
Led the team with a career-high 80 receptions for a career-best 1,292 yards
Named first alternate for Pro Bowl
Ranked seventh in the NFC in catches and sixth in the NFL in receiving yardage
Led the NFL with eight receptions of 40-plus yards and tied for second in the league with 21 catches of 20-plus yards
Led the team with nine TD catches and posted a career-high five 100-yard receiving games on the season
Vs. Minnesota (Sept. 8): Led the team with five receptions for 91 yards, including a leaping, 56-yard grab in the second quarter over CB Charles Gordon down to Minnesota's 6-yard line to set up Green Bay's first touchdown
At Detroit (Sept. 14): Posted career-high 167 receiving yards on six receptions, including a 60-yard TD catch and a 62-yarder. It was the first time in his career that he posted two receptions of 60-plus yards in a game
Vs. Dallas (Sept. 21): Led team with a career-high eight catches for 115 yards
At Tampa Bay (Sept. 28): Posted the third two-touchdown game of his career and his third straight 100-yard game. Caught six passes for 109 yards, including a 25-yard score in the first quarter and a 48-yard TD in the third quarter
At Seattle (Oct. 12): Led team with 84 yards receiving on five catches, including a 45-yard TD over CB Marcus Trufant in the third quarter to break a 10-10 tie
At New Orleans (Nov. 24): Matched a career high with eight catches for 101 yards, including a 7-yard TD reception in the second quarter
Vs. Carolina (Nov. 30): Only game of season he did not start as team opened up with just one wide receiver. Caught eight passes for the third time on the season, for 91 yards. Reached the 1,000-yard plateau in a season for the first time in his career on a 15-yard grab in the third quarter
Vs. Houston (Dec. 7): Had two receptions for 74 yards, including a season-long 63-yarder down to the Houston 6 in the third quarter to set up a Ryan Grant touchdown run on the next play
Vs. Detroit (Dec. 28): Caught five passes for 101 yards. Teamed up with Driver as each posted 100 yards receiving in the game, the first Packers tandem to do so since Jennings and James Jones each topped the 100-yard mark at Denver (Oct. 29, 2007)

Started 13 games and was inactive for three, making 53 catches for 920 yards and a team-high 12 touchdowns, the most by a Green Bay receiver since Walker's 12 in 2004
Added seven catches for 85 yards and two TDs in two postseason games
Tied for seventh in the NFL and third in the NFC in scoring for non-kickers with 72 points
His 17.4-yard average per catch ranked fourth in the NFL, and his streak of five straight games with a TD catch (Weeks 11-15) was the Packers' longest since Antonio Freeman's five-game streak in 1998-99
Injured a hamstring during a Week 1 practice (Sept. 5) and did not play in the team's first two games
Vs. San Diego (Sept. 23): Returned to practice on Sept. 20 and caught four passes for 82 yards against the Chargers, including a 57-yard touchdown that tied Favre with Marino for the NFL record of 420 TD passes; with the Chargers up 21-17 late in the fourth quarter, caught a short slant and sprinted across the middle of the field for the score in the eventual 31-24 victory
At Minnesota (Sept. 30): Caught Favre's NFL record-setting 421st TD pass, a 16-yard score on another slant pass in the first quarter that gave the Packers a 7-0 lead
At Denver (Oct. 29): Caught six passes for a (then) career-high 141 yards and a game-winning 82-yard score in overtime. It marked the third 100-yard performance of his career and pushed him past 1,000 career receiving yards. On the opening play of the extra period, caught a Favre pass in stride down the left sideline and took it to the end zone to give Green Bay a 19-13 victory
At Kansas City (Nov. 4): Made three grabs for 85 yards. Caught a 60-yard TD with 3:05 left in the game, lining up where the tight end normally is, and then blowing past linebacker Donnie Edwards and catching the pass in stride; the score gave Green Bay a 23-22 lead in the eventual 33-22 win
At Dallas (Nov. 29): Caught five passes for a team-high 87 yards and one touchdown. In the second quarter, caught a short pass from Rodgers and spun away from defender for an 11-yard TD; the play marked Rodgers' first career touchdown pass
Vs. Oakland (Dec. 9): Caught two passes for 100 yards, his second 100-yard receiving game in 2007. In the third quarter, caught a long pass down the right sideline and strolled his way into the end zone for an 80-yard touchdown
Vs. Seattle (Jan. 12): Caught a team-high six passes for 71 yards and two touchdowns in Divisional playoff. In the first quarter, caught a 14-yard pass to start a drive and a 15-yard touchdown catch to finish the series. Caught his second touchdown in the second quarter, a 2-yard grab on a fade route that gave Green Bay a 21-14 lead

Played in 14 games with 11 starts and was inactive twice, a late scratch on both occasions
Ranked third on the team with 45 catches, for 632 receiving yards (14.0 avg.), and finished second with three touchdown receptions
Was in on 709 offensive plays (63.5 percent) as a rookie
Also returned five punts for 29 yards (5.8 avg.) and made three stops on special teams
An attention-grabber since his arrival in Green Bay, got better each week during the first half of the season, then saw his numbers decline after a Week 6 ankle injury
For his 101-yard day at Detroit (Sept. 24) – which included a 75-yard score – earned Diet Pepsi NFL Offensive Rookie of the Week honors
Named to the prestigious Pro Football Weekly/Pro Football Writers Association All-Rookie Team
Led the NFL in the preseason with 328 receiving yards, on 12 catches, with one touchdown
Entered the regular season as a starter but made his NFL debut, vs. Chicago (Sept. 10), as a reserve when the Packers opened with two tight ends; notched his first reception on the second-to-last play of the game, for 5 yards
Made his first career start, vs. New Orleans (Sept. 17), and on the Packers' fifth play from scrimmage, a third-and-7, juked CB Mike McKenzie at the line of scrimmage and sprinted down the right sideline, catching a 22-yard Favre pass in stride for the rookie's first NFL score
At Detroit (Sept. 24), had his first 100-yard game, catching three passes for 101 yards, which marked the most by a Packers rookie since Sterling Sharpe had 137 (on seven catches), Sept. 25, 1988, vs. Chicago at Lambeau Field
In the first quarter of Lions contest, caught a short pass and took off for a 75-yard score, stiff-arming CB Dre Bly for the final yards on Favre's 400th career TD pass; topped 100 yards with a 10-yard grab on a third-and-5 in the second quarter
With the long TD play, became only the third NFL player since 1990 to make a TD reception of at least 75 yards within the first three games of his NFL career, joining Derrick Alexander (Cleveland, 81 yards, Sept. 18, 1994) and Braylon Edwards (Cleveland, 80 yards, Sept. 18, 2005)
At Philadelphia (Oct. 2), had a game-high 86 yards on five catches, including a hard-earned, 30-yard grab in the second half that converted a third-and-2
Recorded his second 100-yard day in three games with 105 on five catches vs. St. Louis (Oct. 8); put the Packers back in the game, narrowing the Rams' fourth-quarter lead to 23-20, with a 46-yard touchdown up the right sideline
At Miami (Oct. 22), made one catch, a tough,14-yard grab, but suffered an ankle injury on the play and was out the duration of the contest and the next game vs. Arizona (Oct. 29)
Returned at Buffalo (Nov. 5), and caught five passes for 69 yards, including a team-long 25-yarder in the second quarter; left in the fourth quarter, however, after aggravating his ankle injury
In statement 23-17 win at Minnesota (Nov. 12), caught a pass for 12 yards on third-and-10, then lateraled the ball to Driver, who tacked on 30 more to set up a field goal that gave the Packers a 20-14 lead
At Seattle (Nov. 27), had a game-high six receptions for 50 yards, including a 7-yard, third-quarter gain on third-and-5; Driver scored on the following play
Also at Qwest Field, had his first career punt return (for 10 yards), the Packers' lone punt return of the contest
The next week vs. the New York Jets (Dec. 3), also had the team's only punt return, brought back for 9 yards
At San Francisco (Dec. 10), made five catches for 50 yards; on the Packers' third scoring drive, caught passes of 5 and 7 yards in the red zone, setting up a 1-yard Ahman Green TD
The primary target on a passing play early in 49ers contest, provided a unique assist to Favre when he gestured toward a wide-open Ruvell Martin on the other side of the field; Favre hit Martin for a 36-yard TD
In 9-7 home finale vs. Minnesota (Dec. 21), had two punt returns in the second half, resting Charles Woodson (aggravated shoulder) for his defensive duties
Missed the rematch at Chicago (Dec. 31) to be with his wife, who gave birth to their first child earlier that day
Stats
Family/Father
Greg is focused on going the extra mile in his role as a father and central figure in the lives of his four children (three daughters and one son) . He understands a father's need to balance being a friend, role model, and mentor to his children in order to develop a strong father/child relationship that will stand the test of time.

"Being a father is more than just a title a man is given once they have assisted in the creation of a child. From my own personal experience, it is letting that child know that for the remainder of their life, they will be given the love, care and support that they need and deserve." -- Greg Jennings
Be Great
Quite simply, Greg goes BEYOND in everything he does. Whether on the practice field, in the community, or at home with his friends and family, Greg always gives more than expected and became the Vikings "go to" receiver. He is the consummate "good guy", positive role model, and family man. Honesty and integrity are of the utmost importance to him. He and his wife spend most of their free time hanging out together with their three daughters and new son.

Greg still lives in his hometown of Kalamazoo, MI where he is very active in the community.

His very witty and friendly sense of humor is apparent from the moment you meet him, which explains his love of comedy. Greg is very well spoken and comfortable in front of a camera or live audience.

He's recently had guest roles in hit TV Shows like Criminal Minds (CBS) and Royal Pains (USA) and The Game (BET). Greg also starred in several Old Spice commercials. Greg has aspirations of expanding his acting career and eventually becoming a producer/director.